Our environmental approach
Our campsite is sensitive to its impact on
environment
ENVIRONMENTAL APPROACH
The peninsula campsite is sensitive to its impact on the environment. For us, for you and for future generations, we make every effort to minimize the impact of our activity on the environment. We invite you to consult this charter which presents our various environmental actions and the way in which you can participate in our efforts.
WE SAVE WATER
We collect rainwater for watering our green spaces and outdoor cleaning. We have installed water savers and pressure reducers on the taps and showers in all of our rentals and the toilet block so as not to deplete this resource. The taps are timed so as not to let the water run unnecessarily. We regularly read our water and electricity meters to better manage our consumption,
WE SAVE ENERGY
Use of low consumption light bulbs and electrical appliances. We produce 60% of our electricity with photovoltaic panels and use our electrical appliances during production periods. Use of an electric vehicle for our trips around the campsite when walking is no longer enough. Installation of a charging station for electric cars (lower carbon emissions). We have already equipped 100% of our lighting with an LED or low consumption bulb. We have installed presence detectors and twilight triggers in common areas to limit energy waste. The addition of lighting / bollard light is solar. We display recommendations in strategic places so that customers and staff use these resources in a way that best respects the environment.
TRANSPORT
We favor non-polluting travel and offer electric bikes for hire. We recommend many activities to discover the surroundings through circuits to be carried out by bike, canoe or on foot.
WE SORT WASTE
We have set up a selective sorting point. We encourage customers and staff to follow sorting instructions through waste sorting displays. Valorization of green waste by composting. Limitation of waste (no single dose, no wipes, no single-use products). We do not offer disposable tableware and only use reusable glasses.
Sort the waste using the bins available near the playground (yellow = recyclable waste, green = household waste, compost bin for compostable waste and glass in the trailer provided for this purpose). Drop off your used batteries and your small bottles of camping gas at the campsite reception
Recycling and selective sorting
Renewable energies
Preservation of biodiversity
Charging stations
Reduced water flow
WE PREFER LOCAL PRODUCTS
You will find, in the grocery store next to our campsite, many products from our region and coming directly from producers, our desire being to enhance our gastronomic heritage while promoting local trade and limiting transport. In the center of Crozon, a local producers' market awaits you every morning in July and August and every Tuesday, Wednesday, Friday and Saturday in summer. The bread comes from an artisan baker in the village "la boulangerie de la Presqu'île on the Place de Crozon
BIODIVERSITY
Biodiversity: Self-service aromatic vegetable garden. Manual weeding only if necessary (zero pesticides, herbicides or fungicides). Preservation of biodiversity zones to encourage the arrival of insects, birds and amphibians (salamanders, frogs, toads) within the campsite.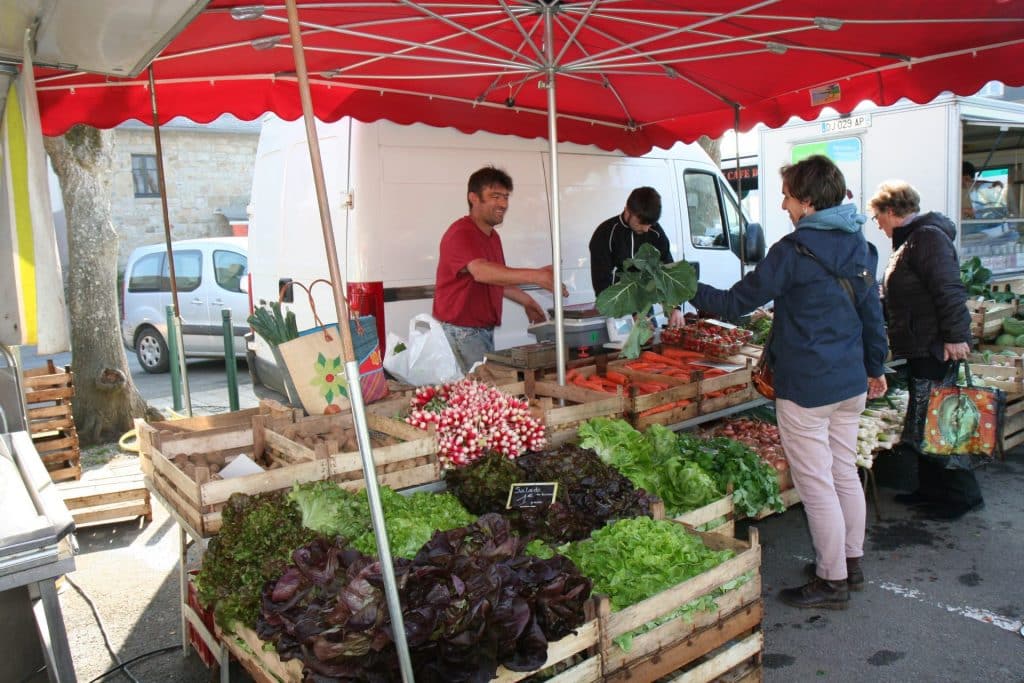 MAINTENANCE
We maintain our green spaces through pesticide-free solutions and use alternative methods to weed control products. We favor certified ecological products. Reuse of plants after winter pruning by grinding to make plant mulch. Shearing is done by mulshing. We use cleaning products with the least possible impact on the environment while retaining their essential property of disinfection and cleaning.
A few small gestures are useful to preserve our planet. Adopt them also on vacation:
Turn off the light as soon as you leave your rental
Turn off the heating when you open your windows and doors
Use the fully loaded washer and dryer only if your clothes cannot be dried outside.
Report any water leaks
Do not throw anything down the toilet that could pollute the water (e.g. bleach) or interfere with the proper functioning of the wastewater treatment plant (wipes, tampons and sanitary napkins)
Each year we commit to new criteria to perfect our approach, we are attentive to your ideas and experiences.
Thank you for supporting us in our approach during your stay!